Costa Rica Fishing Vacation Charters Boats and Tours
Jaco Beach Fishing
Playa Jaco on the Central Pacific of Costa Rica is considered one of the best places in the world for sport fishing of all kinds. Travellers come from all over the world to fish on land or at sea while enjoying the unique beauty of the region. Los Sueños Resort is a beachfront in Jaco Beach, is considered the best resort of Costa Rica and is the destination of choice for those who came to enjoy the incredible fishing.
Half or Full day Fishing may include
Private Transportation

Fishing Equipment

Beers

Water
If one of the reasons for many visitors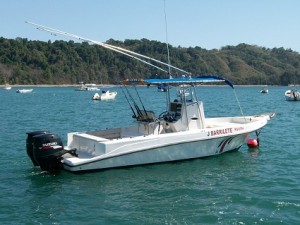 to come  to Fishing  in Local Water, Los Sueños is definitely the place to be. Los Sueños is 1,100 acres of unsurpassed beauty, surrounded by rainforest, pristine beaches and abundant wildlife. Coupled with this natural beauty are the best facilities, activities and services available everywhere.
It is the Marriott hotel with spa and restaurants open to all hotel guests, a complex of shops and restaurant called Marina Village, an eco- championship golf and a wealth of outdoor activities. For fishing enthusiasts , the main attraction is perhaps the marina of international renown.
From the marina, you can rent from a small cruise ship for a 60-foot yacht for a day of fishing on the most memorable sports you can imagine. Costa Rica Fishing Jaco set records for marlin, yellowfin tuna, sailfish and roosterfish . All are plentiful outside of Jaco Beach. If you prefer to fish near the coast , snapper are a favorite and yields.
All charter boats are operated by experienced bilingual captains and boats know where to fish and how to achieve them are. Everyone in your party is sure to have a great experience, whether fishing for the first or umpteenth time. Sport fishing is a great way to get in the ocean, enjoy the beautiful sunny Costa Rica and spend time with friends.
When you find fish in Costa Rica, Jaco is the ultimate fishing experience, and our ships are part of this experience. With the latest technology, qualified personnel, comfort and luxury amenities, letters Jaco meet every fisherman or fisherman's dream.
When you return from your day at sea, you can enjoy your wonderfully fresh catch in your own rental home, or choose to dine in one of the many restaurants on the property of Los Suenos Resort. There are also dance, fine cocktails and beautiful music to help you enjoy a romantic evening alone or a gathering of friends.
Los Suenos is the perfect place to come to …Costa Rica Fishing Jaco. Regardless of how others choose to spend the day, every day here is full of possibilities. With a lot of sports, opportunities to see rare wildlife and hiking the beautiful rainy or oceanfront forests, there is something for everyone to enjoy.
Every day in Los Suenos create memories that will stay with you long after his return, memories of Costa Rica, Jaco Fishing and unparalleled beauty If you want for your next Fishing Vacation in Costa Rica.